-- Scanner
---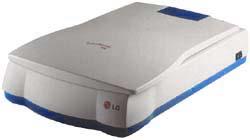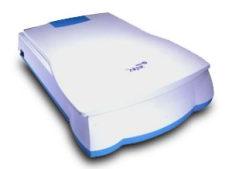 The Compeye Simplex DP30F in LG's (left) and the OEM's (right) livery.


This page contains information about the LG Scanworks 30a (= Compeye Simplex DP30F) scanner, which I hope will be useful to other users.
I bought my model a couple of years ago as a special offer for about 50 Euro. It is a parallel port, single pass, 300 SPI (=samples per inch), 30 bit colour depth, CCD machine, sold by LGE (Lucky Goldstar Electronics) under the label "LG Scanworks 30a". As it turns out, it was manufactured by the Taiwanese outfit Compeye (which meanwhile has been bought up by another Taiwanese company, FoxLink Image Technologies (Cheng Uei)), which also sold it directly under the name "Compeye Simplex DP30F".
Some relevant links: Apparently, there were several other companies who sold this and similar Compeye scanners under their label, for example IBM sold Compeye parallel port scanners under the label "IBM IdeaScan".
Compeye has also produced a similar scanner with a 600 SPI optical resolution, named "Compeye Simplex DP60F", which was sold by LGE under the label "LGE Scanworks 60a".

Overall, I can say that I haven't regretted buying it. It is an inexpensive, unfancy "does what it says on the label" type of device. It enables me to scan text documents for OCR or faxing, make photo copies, scan photos and documents for the internet, and generally mess around. I have found that the 300 SPI optical resolution, even though it is now technically outdated, is perfectly sufficient for my requirements, as handling large images at a higher resolution would require an alltogether much more powerful computer (also the parallel port is pretty slow, so a 600 SPI parallel port scanner doesn't really make sense). I use the scanner in a daisy - chain setup together with my HP DJ850C printer, which has been unproblematic (apparently this is a major hangup with other parallel port scanners).
The biggest drawback, in my mind, is the TWAIN interface which, typically for Asian software of this kind, is very gadgety and colourful, but confusing and irritating to work with.

How does the Simplex DP30F compare to other Compeye scanners?
The label "Compeye Simplex DPxxx" stands for a family of parallel port scanners, with two subsets: "DPxxM" have a slimmer chassis, "DPxxF" a more volupturous, baroque one. The first of the two numbers signifies the optical resolution (3 = 300 SPI, 6 = 600 SPI), the last number the colour depth (0 = 30 bit, 6 = 36 bit).
The Compeye Simplex DP30F is therefore are parallel port scanner ("Simplex DP"), with 300 SPI optical resolution ("3"), 30 bit colour depth ("0") and a "fat" chassis ("F").

Where can I get a guide to the TWAIN interface?
There is an online version available

here. A general Compeye scanner FAQ is available from

here.

I just want to scan and save an image, without having to fire up my graphics software, how can I do this?
Use the Twacker, one of my all - time favourite programs! It functions like a stand - alone TWAIN driver: just scan and save the image. The TWAIN Twacker was originally relased by the official

TWAIN Working Group in

version 1.7, 32 bit and has been independently developed to

version 1.9, 32 bit by

Vysor Integration Inc..

I just bloody hate the TWAIN interface, can I use Hamrick VueScan as an alternative?
VueScan from

Hamrick is a very sophisticated TWAIN toolkit that is designed to function with a number of scanners. It would make a welcome change from the Compeye "Pokémon" interface but unfortunately, probably due to the scanners proprietary and undocumented command set (typical for parallel-port scanners), it is incompatible.

Where can I get an updated driver?
Get the version 2.20 driver for Windows 9x, ME and 2000

here (four files to download) or

here (single file download). There is also a 16 - bit driver for Windows 3.x available from

here.
Some of these archives need to be extracted twice, i. e. the archives again contain archives -- what a pain in the ass! Extract everything to a single folder with no subfolders, and run setup.exe from there.

Can I use the version 2.44 driver?
No, I have tried it out, but to no avail. It only works with the 36 bit colour depth Simplex DP scanners.

Understanding Windows still image acquisition technologies.
Windows 3.x, 95 and NT4 use the standard TWAIN data source manager, get the latest version (1.6.0.3 (16 bit) or 1.6.0.6 (32 bit)) here.
Windows 98, 98 SE and 2000 uses an updated, proprietary TWAIN data source manager (version 1.7.0.0) as a subset of its Still Image (STI) architecture.
Windows ME and XP use Windows Image Acquistion (WIA) architecture, which still provides support for legacy TWAIN devices through the version 1.7.0.0 TWAIN data source manager.

How can I install this scanner under Windows XP?
The Compeye website states that "the driver does not support Window XP and will not be updated to support Window XP due to some different settings of the hardware". In other words, they won't bother writing a new driver.
To give you the wider picture, scanner drivers are problematic under Windows XP in general, I have heard time and again from other users that all their hardware was recognized by XP except their scanner, and that even drivers written specifically for Windows XP were problematic or didn't work at all.
The good news though: it is possible to use the scanner by simply installing the 32bit v2.20 driver. Most software works fine, you can simply scan the image through the "Acquire" function. Software that I have personally and successfully tested:
The GIMP 1.2.3,
MicroGrafx PicturePublisher 8,
PaintShop Pro 7.04,
Irfan View 3.70 (good as a TWACKER alternative -- see below),
... and of course the fabulous TWACKER.
The only program that wouldn't co-operate was Adobe Photoshop 6.0.1, but in such a scenario you can scan the image through the TWACKER, save it, and then open it from within Photoshop.
Also, the scanner still won't show up in the Device Manager, but so what.

Can I use this scanner under Linux?
As far as I know, it's not possible. Compeye of course hasn't written a Linux driver, and Linux drivers even from upmarket manufacturers are virtually non - existant. There is a software project called

SANE (= Scanner Access Now Easy), but it mostly works with SCSI - interfaced scanners.


---
Reload and refresh

this page; return to

home page.
Scanner Page on Michael Barnikel's Website. © 7/2003.