-- Personal Pictures
---


To adjust your monitor for accurate image rendition: set contrast to maximum, then adjust brightness so that all eleven shades of the grey scale are distinctly visible.


---

A panoramic montage of some of my nephews.
From left to right: Leo, moi, Alladin, Leo again and Elias.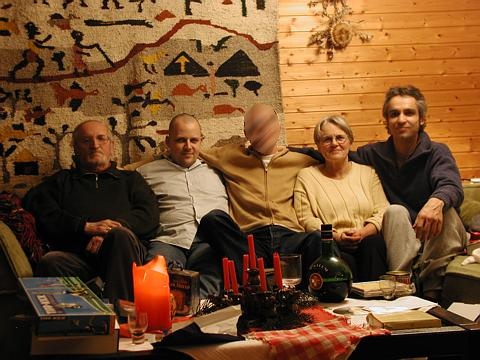 This picture was taken at Christmas eve 2001, the first time in years that all of the family came together.
The fact that I look like a bucket of lard is entirely due to the perspective. And I've got heavy bones, allright?
From left to right: Helfried, Michael, M., Helga, Tobias.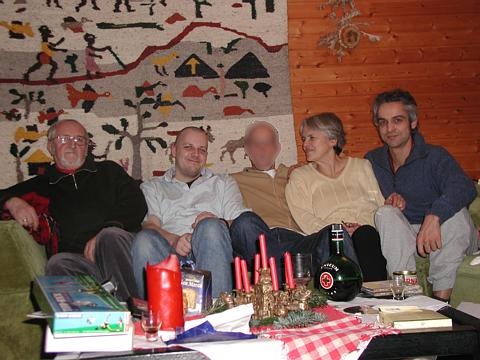 The same as above, taken with a semi-professional 5 MegaPixel digital camera, but this time using fill - in flash.

A panoramic view from my balcony, made up of several individual images taken with my dodgy VGA digital still camera and then joined together by dedicated software.
Robinson, a hedgehog I rescued from the cold in autumn 2001. He crapped all over my carpet to thank me for it.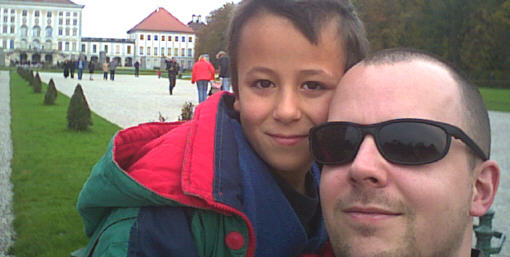 With Leo in front of castle Nymphenburg.
Elias sitting pretty in the Kloster Andechs pub.
Ali acts up.
This image serves as a stern reminder that children and amphetamines don't mix.
---
Reload and reframe

this page; return to

Home Page.
Personal Pictures Page On Michael Barnikel's Web Site. © 7/2003.